Walnut Hollow Oil Pencils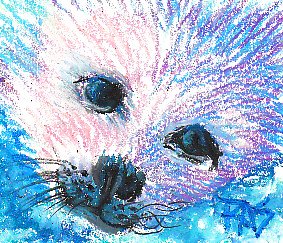 Walnut Hollow Oil Color Pencils are not usually found in the fine art section of art or craft stores -- they are marketed primarily for woodcraft and their translucence allows the grain to show when used on wood burning or wood carving projects. They are surprisingly pigment-rich, soft and have excellent quality comparable to the good artist grade colored pencils I use often.
Their texture is smooth with a slippery feel like Lyra Rembrandt. Oils in the wax binder of these oil pencils give them both that softness and a gliding feel that makes it very easy to build up smooth layers on wood, paper or any surface toothy enough for pencil work.
Because these pencils, made in Wisconsin, are designed for woodcrafters and a crafts market, they don't have the packaging typical for fine artist grade colored pencils. They come in a clamshell clear plastic tray stapled together, bang into each other in two layers and are not sorted chromatically. They are not presharpened. I recommend purchasing an elastic band pencil case like the Global Classic leather pencil case or Tran Deluxe pencil case, both available at Blick, or the less expensive nylon pencil easels carried by Jerry's Artarama.
Like Berol Prismacolor artist grade colored pencils, they are subject to some internal breakage and the insert recommends using a hand sharpener rather than an electric sharpener. I found the Prismacolor Colored Pencil Sharpener was a good choice for babying them so they don't lose their points.
Where they shine in oil pastels use is that for edging and details, they are indistinguishable from the oil pastels areas they extend. They are firm enough to push the color aside if I draw over an area with loose oil pastels work. I did the whiskers in Sunset on Ice, above, using the black Walnut Hollow pencil after I'd completely worked out the heavy coverage on the baby seal's muzzle and the lighter areas around it. Clean strong flicking strokes made the whiskers a perfect match for my photo reference.
What you can't see in the photo of my art is the division between the black and blue oil pastel in the baby seal's eyes and the details I worked in edging with black and blue Walnut Hollow Oil Pencils. That's the beauty of these pencils -- their finish texture is so close to oil pastel that you can't distinguish the transition.
Light colors burnish without opacity if laid over dark with these. Walnut Hollow Oil Pencils are translucent leaning toward transparent. On an oil pastel work, they do push color aside but the light colors are not strong enough to cover without blending with the colors underneath, it'll come out as if you scraped the color underneath.
It helps to scrape the area you want to apply the pencil detail with a sharp scraper or art knife first, especially when adding a light or bright colored detail. You can also underpaint the area with white oil pastel as for sgraffito techniques so that when you scrape to add in the bright detail you're working over the thin white oil pastel layer instead of any previous colors.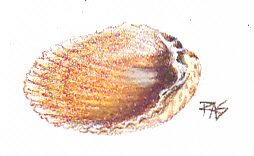 Shell Study by Robert A. Sloan, Walnut Hollow oil pencils on white ProArt sketchbook paper.


Rich glossy color and good details
Above is a shell study I did using Walnut Hollow Oil Pencils by themselves. They hold a good sharp point and layer easily, I was able to use seven or eight layers in the most saturated areas even on sketchbook paper. No doubt I'd be getting even more layers if I used Stonehenge or other papers best for colored pencils painting.
These pencils are available in a range of 36 colors with 24 of them in open stock. It's not a long range for artist grade colored pencils but big enough to do the job if you're looking for something to detail your oil pastels painting and not afraid to mix colors.
Essential mixing hues are included in the large set such as my favorite three earth tones -- yellow ochre, an earth red like Burnt Sienna or Terra Cotta, Burnt Umber or a near equivalent. A good quality metallic silver pencil and a lovely metallic copper pencil are included, but no metallic gold. It's an odd omission, but usually metallic gold colored pencils have a dull bronzy color rather than the light bright color of real gold metal. I haven't tried this, but I think a mix with Yellow Ochre or a bright yellow with the silver might create a gilded effect.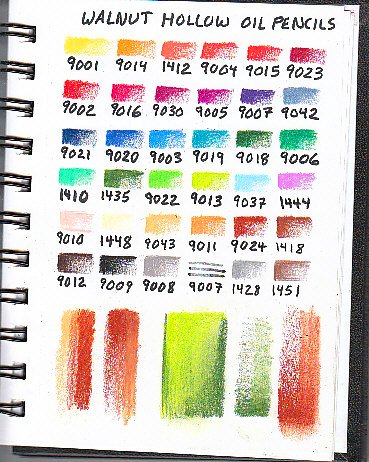 Above is my color chart for all 36 colors of Walnut Hollow oil pencils.
Under the color swatches, which are reasonably accurate this time, I included several blending and mixing tests. The left side blending strips are Terra Cotta over Light Flesh to the left and Light Flesh over Terra Cotta to the right, showing the different effects when you blend by putting dark colors over light or light over dark. The mixture is a better combination light over dark, while dark colors cover thoroughly.
In the center is another two color patch, a wide one with Yellow Ochre and Olive Green. I smudged this one with my slightly sweaty fingertips and found it blended well to a smooth gradient, in the heaviest areas where I blended it filled all the white paper flecks.
The fourth blending test is pure Olive Green blended on the right side of the swatch using a cardboard tortillon. Again, I got good blending effects using the tool but this didn't dissolve the color the way my sweat did.
The last patch is Terra Cotta again, blended on its right side with a Prismacolor colorless blender. If you need to create combination colors with your Walnut Hollow oil pencils, the way to go is to use light over dark and test the combination on a scrap of the same paper color you'll be using it on.
These pencils used to be available at Dick Blick art supplies well below retail price. My 36 color set in February 2009 was $23.95, as usual that was quite a lot below manufacturer's recommended retail price. If you can find them on eBay or in brick and mortar stores, snap them up at any price. They have been discontinued but you might be able to find them through resellers or slow moving stock at stores.