Gallery
Welcome to my personal gallery.
This page will always display my latest, best oil pastel paintings and drawings. Some are for sale, others have already been sold or will not leave my house until I'm ready to let them go because I painted something I like even more. Contact me for price, shipping and framing options.
Artist's Statement
I've had a hard, complicated life because I always had permanent disabilities and didn't know that life was easier for other people till a few years ago. Childhood, when other people assumed I was capable of anything a normal child could do, set impossible schedules and demands. Nothing later has ever been as hard as trying to keep up with grade school and gym.
In those earliest years, art class was the one area of my life that had no terrors. Art teachers in the 1960s believed in "Express Yourself" and "Do your own thing." Art was where I could go at my own pace, competed only with myself. Most people thought I was great, a talented prodigy. I looked at the Old Masters and knew I was learning.
I'm 56. I'm still looking at Old Masters and learning. I paint better than I used to and not as well as I will.
I paint beauty. I paint with joy because my life right now is filled with deep joys. I've starved once or twice but even that now gives the taste of an apple a miraculous quality that I share in my still lifes.
School's out.
Life's a lot better.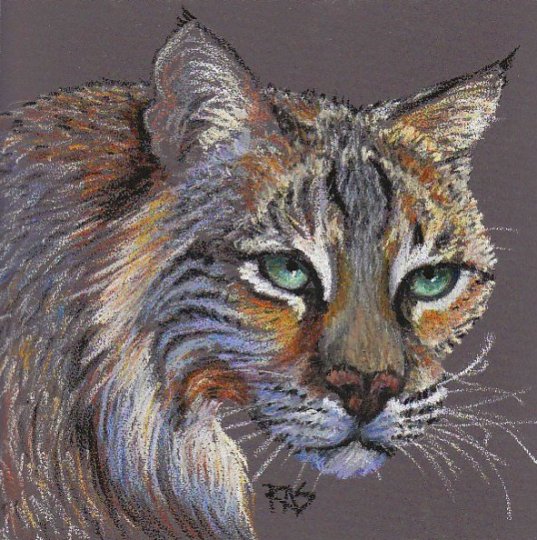 Bobcat, 8" square, oil pastel on Aubergine Art Spectrum Colourfix sanded pastel paper. I think I used Erengi Art Aspirer or Caran d'Ache Neopastel for this wild cat. Sold.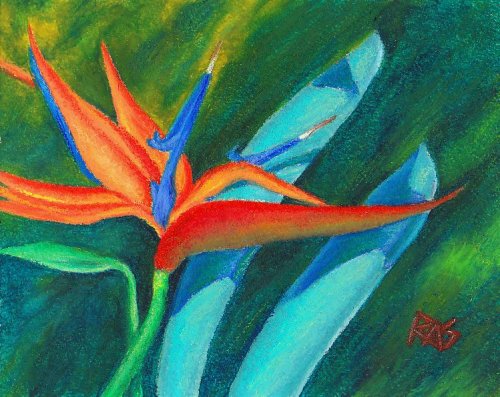 Bird of Paradise, 12" x 9" in Erengi and Sennelier oil pastels over watercolor underpainting on 140lb watercolor paper primed with clear Colourfix sanded pastel primer. Sold.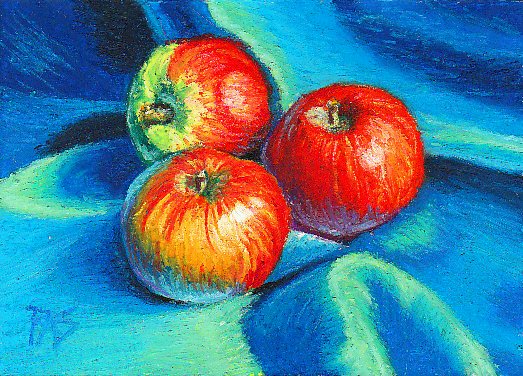 Apples on Blue Silk, 7" x 5" in Erengi oil pastels on 140lb watercolor paper primed with clear Colourfix sanded pastel primer. Available.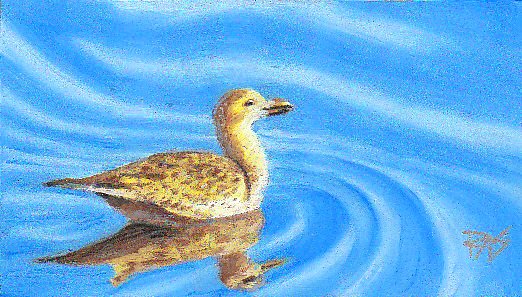 Seabird is 7" x 4" in Holbein oil pastels on blue-gray Canson mi-Tientes paper primed with clear Colourfix primer. Painted from a photo by Wendell Dennis with permission, he sent me several packets of good photo references to use since I have trouble going out to take my own. Available.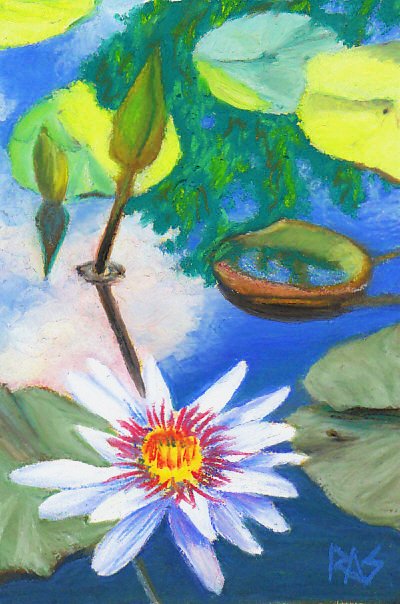 Water Lily Pond, 4" x 6" in Caran d'Ache Neopastel oil pastels on Colourfix sanded pastel paper, Rich Beige color. Sold.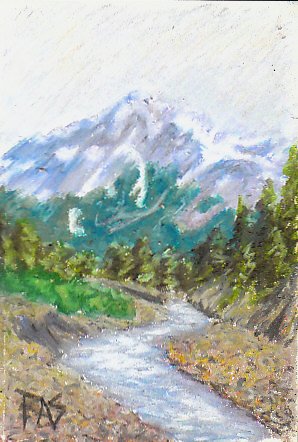 Alaska Mountain, 4" x 6", Erengi Art Aspirer oil pastel on ProArt sketchbook paper from a reference at WetCanvas.com. Demonstrates Atmospheric Perspective, sometimes called Aerial Perspective. Collection of the Artist.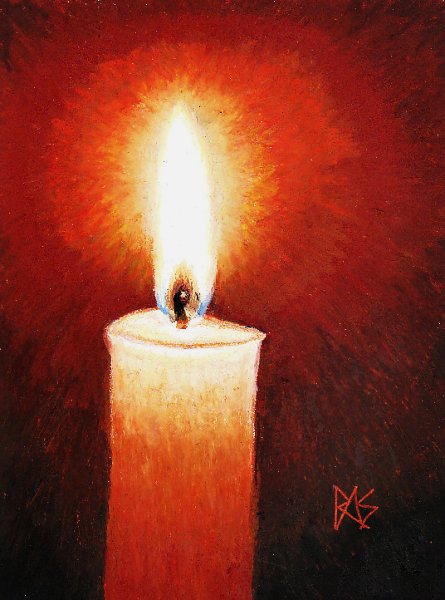 Candlelight approx. 7 1/2" x 10" in Sennelier oil pastel on ProArt sketchbook paper. Collection of the Artist.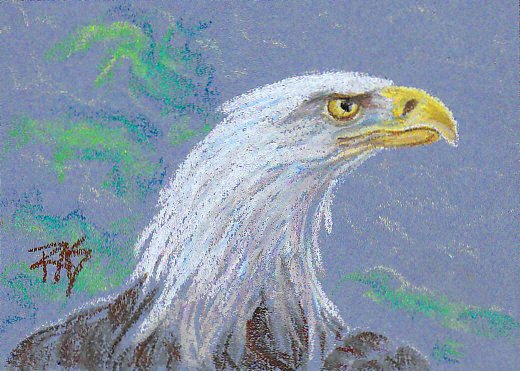 American Eagle, 5" x 7" in CrayPas Sennelier artist grade oil pastels on blue-gray Canson mi-Tientes paper. Available.
Commissions
For reasons of health, I keep a very short queue and do not accept many commissions. Price begins at $50, contact me with your idea and we'll discuss size, style, subject, source images and techniques involved before I give an estimate. Payment terms and deposit amount will be agreed before I begin the work.
It is rare for me to accept a deadline on art. Most of my clients are aware that stress-induced symptoms can interfere with my ability to function under deadline pressure. I will only accept short deadlines on very easy pieces that I could do regardless of health and weather interference.
The up side of this for my clients is that when a painting takes longer than my initial plans, it always seems to come out profoundly better than I planned too. A large piece may take up to a year or two to complete but be all the better for it if I took my time and worked out its challenges at my own pace.
When I have accepted a deposit, your place in the queue is assured and your project will be completed unless you cancel it. Deposits are not refundable so it's better to work out a payment schedule you're comfortable with. Your art will be shipped in a professional manner and insured for its full value including any framing or matting.
Commission art is always done with archival, artist grade supplies unless otherwise specified. Publication rights are not included in the price of the original art unless previously agreed, other than the nonexclusive right to display a reasonable sized web-resolution image on your personal blog or website with my name and a link to my site.
Contact me if you are interested in publication rights to any of my works, including those already sold. I'll quote a fee appropriate to the project, its duration and exclusivity.
ACEOs and Other Mediums
For a couple of years I've produced, traded and sold ACEOs -- Art Cards, Editions and Originals. These miniatures are exactly 2 1/2" x 3 1/2", may be in any two dimensional medium I enjoy. They are stored and sold in an Ultra Pro archival soft sleeve within a Premium Ultra Pro archival "top loader" -- a thick clear PVC slip case that protects the art as well as framing would from smudges, handling and dust.
"Editions" means the term ACEO includes limited edition prints. My Editions are usually photoprints made on my Canon MP610 printer and stored the same way as my ACEO originals. Editions are usually small print runs of 18 or 24.
My commission rate for an ACEO begins at $25 and may be higher if extreme realism or other time-consuming techniques are involved. I accept these small commissions when I have time and they usually get finished within a few months. They are outside my queue for major commissions and might be done fast if the idea grabs me and my symptoms don't flare up.
My other mediums include soft pastels, colored pencils (including colored pencils realism), graphite, watercolor, alkyd oils, acrylic, tinted charcoal, scratchboard or pen and ink. Almost all my work qualifies as Small Format Art (under 14" on all sides or diameter of circular art) due to my physical disabilities. It is very difficult for me to work at an easel and works larger than 11" x 14" demand use of a large drawing board or my easel.
I do occasionally create pastel, oils or oil pastel paintings that are larger, up to the size of a half or full sheet of watercolor or pastel paper. These long projects are often at least a year in the making and may take up to a decade to complete unless they're done on commission.
I sometimes list Small Format Art and ACEOs in my Etsy Store or at eBay, where my username is robertsloan2art. I don't always have listings available, but you can see my eBay listings if I have any ACEO prints or original ACEO art available by searching on Robs Art
Awards
April 13, 2009 -- I just received this award from Fur in the Paint to my surprise and delight -- for this site! My OP blog isn't a major part of this site but it's a lot of fun, Mona gave it to me for the site content as a whole.
By the rules of the award meme, I should give this to three other bloggers and then list seven of my inspirations. So to start with, here are three new recipients, chosen for inspiration to oil pastelists and new artists. I read quite a few good blogs but I don't think y'all here are all as interested in John Scalzi as I am, so will list my top three art blogs and sites as of today.

Fur in the Paint
Mona's painting blog deserves a double dose! I've been following her animal paintings in colored pencil, oil pastels and pastel for a long time now. She does spectacular realism and impressionism and very often provides progress images and descriptions of how she gets such wonderful textures, accurate anatomy and good painting advice. A useful blog for anyone who loves animals and wants to improve as a pastelist.

Bob Davies' How to Draw and Paint
Self taught Liverpool artist Bob Davies has created over a dozen good art instruction videos and numerous articles on many different mediums. The site is one of the best beginner art sites I've found online. He does have a good page on Oil Pastels in his Pastel section and mentions them occasionally in other pastel articles. For basic drawing and painting skills, this site is spectacular. His newsletter is monthly and links to his latest videos.

Pat Isaac's Blog -- Art By Patricia
Pat Isaac's art blog is full of interesting tips and tidbits. She often posts progress on serious oil pastel paintings and is a great help to every artist she meets. Pat paints like a goddess, especially her floral macros and landscapes are phenomenal. I love Pat's art and her blog's readable and entertaining. So here's your Kreativ Blogger award, Pat! Enjoy! Inspirations
Seven things that inspire me...
My cat, Ari. Yes, he inspires me constantly. He sheds his famous Cat Hairs of Inspiration all over me and everything I own. He often comes up into my chair while I'm working and settles down on my leg, purring, which always relieves my pain and leaves me feeling warm and good toward the world -- and ready to paint something beautiful including him. I am loved by a cat. This is easier with oil pastels than soft pastels because he has a tendency to sweep in blending with his fluffy tail on the dusty pastel paintings.
Friends. My artist friends at WetCanvas.com are another constant inspiration. When I hang out in the Oil Pastels forum, I get ideas from the discussions and the works in progress posted by artists far better than I am. Helping beginners also gets me thinking about basics and sometimes understanding them more as I try to explain them. Art is social for me, the more often I hang out with other artists the more I want to paint and draw.
Family My daughter, son in law, grandkids, dogs and cats all inspire me to paint more often. My granddaughter especially loves to draw and paint, so when she comes in my room to watch dinosaur DVDs and asks for coloring pages of course I oblige her. She loves oil pastels too, I gave her the Crayola set and she is doing great things with them. The first thing she did was color a Liopleurodon striped with each color in the 28 color box in succession. Rainbow Liopleurodon is on my fridge.
Color. Yes. I can open a set and just looking at the array of colors in chromatic order will give me ideas. Something will jump out at me, like all the greens or a blue or magenta and I'll be off choosing a good subject just so I can use that color. The one thing that always puts me in a mood to paint is to spread out a large set in good order and look at the colors.
Art Supplies When I buy something new, another Colour Shaper or a new surface or a new set of oil pastels, then immediately I want to play with them. I get ideas while I'm doing the color charts or testing the new thing. Some new things get tested by doing a painting before I get around to charting or organized testing. Often I get inspired just by windowshopping at Dick Blick and wish listing supplies I plan to buy later or reorganizing what's in my cart for my next order. While doing that, I also sometimes look at the pages for supplies I have and that stirs interest in using them in new ways. I can't think of a time that I regretted a purchase, with all that premeditation I usually get all the bargains.
Things I Wish I Could Paint There are a host of things that I've always wanted to paint well. Storms. Undersea reefs. Animals and prehistoric animals. The ocean. Complicated architecture. Nudes. Pearls. Gemstones. They're tough, they're either beyond me or just beginning to come into reach. So when I see paintings of these things or see these subjects in life or in a video I'm always trying to think of how I'd paint them, understand how painters do it and every now and then try one of my tough ones. Sometimes I succeed and then want to paint that even more now that my version makes sense.
Things I Can Paint Easily. At the other end of the scale, all my favorite subjects are inspiring too. Flowers like irises or roses that I mastered a long time ago always make me think of painting them again and showing off. Cats and other animals that I'm very familiar with -- of course I love cats so much that I could never tire of painting them whether it's huge tigers or my beloved Ari or still-wet newborn kittens. A great Norwegian Catographer, Wazabees gave me permission to paint from all his cat photos. He has many beautiful Norwegian forest cats and wet newborn kittens I've painted. I plan someday to do an entire series on Carlita, a little white kitten he photographed from birth to six months old who was utterly beautiful and distinctive.