Papers and Surfaces


Papers and surfaces for oil pastels can include anything at all. Some artists use them on grocery bags with dramatic effect. Though I don't advise this for anything you want to preserve and sell for display, it may be the perfect green alternative for studies and preliminary sketching or for illustrations where the prints are important rather than the original.
Oil pastels were designed to function well on glass, wood, paper, canvas, plastic, anything an artist could think of painting on. They work well for rock painting if you don't mind that they never completely dry so they're easily smudged. Other than smudging, when oil pastels have artist grade lightfastness their permanence is remarkable.
This will be a constantly expanding section as I test different papers, supports and grounds with different techniques and brands of oil pastels. I'll combine product reviews with techniques and tips for particular surfaces in the following articles.
Papers and surfaces intended for pastels work very well for oil pastels and sometimes allow more layering if they're gritty or sanded.
Wood, glass, metal and weirdness
I will be expanding this later on as I try out some of the odder substrates that artists use oil pastels on. One thing I can say right at the start though -- if you experiment on an unusual surface and it isn't sticking well enough or you have trouble with it, slap a coat of clear Colourfix primer on it and try again. That stuff will stick well on almost anything.
Some surfaces may need priming. Others don't. I would suggest with stones that you look for something that has a little tooth rather than a completely polished surface.
Wood panels are often gessoed and are a traditional painters' substrate. Without gesso, some sanded wood surfaces may do very well for oil pastels although they would soak in and stain. The research done for oil painting is likely to be relevant for using wood as a support.
Coloring wood statues and carvings with oil pastels may be dramatic and effective. I have yet to finish one but I may try this. Any readers who've tried using oil pastels directly on unfinished wood or on varnished wood, let me know how it worked out.
Using glass or mirrors has one big advantage though -- easy to remove. Scrape off any section you don't like, wipe it clean and try again. I may be doing some mirror borders to test how oil pastels of different brands react on glass, but I am pretty sure they won't soak in and stain it.
Avid recyclers may consider using plastic as a substrate. Some plastics are a recycling problem because they may last for hundreds of years without degrading. Gee, if that is a problem in a landfill, it could be a benefit for a serious fine art painting that you may want to last for centuries.
I would suggest researching different types of plastic and their durability before trying it though, unless you're just doing craft projects not intended to be archival. Any found objects artwork runs the risk of wearing out faster than archival art supplies designed for permanence.
Metal is subject to oxidation unless sealed. Treating metal with a clear acrylic gesso or primer may keep its original finish a lot longer and also give a good surface for the oil pastel to adhere to. If you want an oxidized patina on copper or bronze, that itself sometimes protects the metal from further damage. Try it on small pieces and see how it works out.
That's my best advice for weird substrates -- just try something and see how it works. Oil pastels are the most versatile art supply I've ever run across. Some brands may be better on some surfaces than others, so if one brand doesn't work for what you want, try a stick in a different brand. I may do some systematic tests of these oddities later on.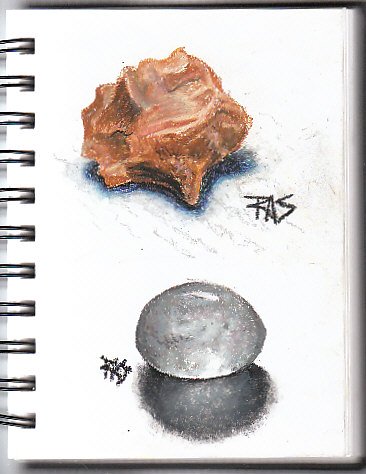 Sketchbooks and Drawing Paper
The obvious first surface to try, especially for those on a budget, is an inexpensive drawing pad or sketchbook. With student oil pastels going for $5 and change for a big set, you can do quite large paintings on paper. The illustration above is a page in my latest 4" x 6" ProArt wirebound sketchbook. Small sketchbooks seem to fill up faster and encourage me to draw more often because it doesn't take long to fill a page.
I prefer spiral bound hardback sketchbooks after many years of trying different types of drawing pads and sketchbooks. The covers get battered when I'm a third of the way through if they have paper covers, the corners get battered and if I do a good drawing it'll be ragged at the edges. So I tried several brands and settled on the ProArt Wirebound Sketchbook at Dick Blick art supplies. I'm on my fourth small one and a quarter of the way through my letter size 8 1/2" x 11" one.
The paper is smooth and bright white, yet has enough tooth to hold several layers of oil pastel. It won't compare to a sanded pastel paper but it's very good. Most of all the dang things don't get all beat up in between drawings. The letter size version fits neatly on a scanner bed with the cover and other drawings folded back, which is a big plus if you like posting your sketches online.
For the extreme tightwad, there's also Blick's house brand white sulphite drawing paper. That comes in various sizes from 9" x 12" up to 18" x 24" and you can get a ream of the lightweight 50lb stuff, 500 sheets for $5.99. This is much better than using printer paper. Your sketches are at least on decent acid free art paper when you use something like that, which means if you're going to try street selling you've met a minimal level of quality for someone else to pay for your work. It won't yellow in a year the way printer paper does.
Other bargains are Canson Biggie pads, Strathmore sketchbooks, any number of manufacturers make good drawing surfaces and present them in bulk quantity. The heavier it is, the better it is for durability and for using pressure.
For heavy weight, Bristol is acid free and good. It comes in sheets and pads, the higher grades are archival museum quality. Avoid poster paper, that stuff is not acid free and hasn't even got minimal archival quality because it's intended for signs that won't even be kept year to year. It's designed for temporary use the way illustration board is.
Price and quality correlate well in art surfaces. Things to look for on the packaging are Acid Free as a minimal, Lignin Free (something that creates acidic destruction), Buffered (which is an improvement on Acid Free because it's buffered to resist acid from the environment), and Archival/Museum. When something says it's Museum or Archival, it will usually also say 100% Cotton or 100% Rag.
It also means that it'll still be around for museums to display it in a century or more, which is important to collectors when your art reaches a price range that it can be called an "investment." Remember, if you become famous later on the stuff you're doing now that isn't as skilled will acquire value as part of the history of your art career. I would recommend at least using an acid free product to any artist.
For one thing, suppose you don't become famous. Suppose instead your drawings get saved by your niece who has grandkids who discover them a hundred years later. If they are still preserved, they will acquire museum value as antiquities and your name will be remembered. People who wrote diaries become famous after they're dead. So thinking of the long term is good, it also helps you to value your art.
One more inexpensive source of good drawing paper -- check out print shops and office supply stores for Acid Free Card Stock and Acid Free Cover Stock. These are about the weight of Bristol and much less expensive, but they are good enough to be used as drawing paper. They are sold by the half ream at about $15 at Staples.
Acid free printer paper is cheaper and it's also good enough for sketches, it's just much lighter weight and so it may not stand up to heavier use. Depending on how heavy a hand you have and what techniques you use, it may not matter.
I would not try wet techniques on even a heavy drawing paper without testing them on a scrap. Sometimes with card or Bristol or even my 80lb sketchbook sheets I can get away with light washes -- especially if I leave some border between the washed sketch and the edge of the page and limit the amount of liquid in the brush to minimal. Usually that means squeezing it or swiping it on a cloth before applying to the page.
For anything wetter than that, see Boards or Watercolor Paper below. Colourfix sanded pastel paper
Colourfix is my favorite sanded pastel paper for soft pastels too. It comes in a wide range of 20 rich colors in large sheets or 9" x 12" sheets and has a sanded surface that's a little easier on your fingers than other sanded papers for blending. It's made by printing a smooth layer of Colourfix primer on top quality 140lb. 100% rag watercolor paper. Fully archival and suitable for painting with artist grade oil pastels to sell to galleries or hang in museums.
Colourfix also makes an archival plein air board prepared with the same primer on 100% rag museum board.
Colourfix primer
Colourfix primer is an inexpensive alternative that can be used to turn any watercolor paper into good Colourfix. It's available in all 20 colors including clear, which I find the most useful as I can sketch before priming and keep the graphite sketch lines from mixing with my light bright colors. It's acrylic based, water thinned and can be painted on any surface that'll hold acrylic. Use good 100% rag versions under it for serious fine art. It's still more affordable when you do your own priming.
Wallis Sanded Pastel Paper
More expensive than Colourfix, Kitty Wallis invented this sanded paper for her soft pastels work. It comes in two grades, 100% rag Museum and buffered acid-free Professional, both have the same primer. Wallis Pro comes in two colors, white and Belgian Mist (a light neutral). I've tried the white Professional and it is much rougher than Colourfix. It holds more layers and Museum can stand up well to wet effects. Blend with tools or sticks on this stuff, it will remove your fingerprints if you do finger blending on it.
Uart Sanded Pastel Paper
Available in four different grades of fineness from 400 grit to 800 grit, Uart is artist grade sandpaper combining archival quality and the variety that the hardware department stuff offers. I hope to try some in a sampler sometime. It's archival and suitable for fine art work. Blick carries the 400 grit and 800 grit, the most coarse and the most fine. Dakota Pastels has all four grades plus many other brands.
Ampersand Pastelbord
This stuff is beautiful. It's primed 1/8" hardboard with a fine grit that comes out smooth enough for small details but toothy enough to grab color and hold it. It comes in various precut sizes and four colors: white, sand, gray and a dark muted green. Framing afterward may require spacers instead of matting and on large pieces it can weigh a lot, requiring reinforcement. It also comes cradled for hanging without framing. Which you prefer depends on your style.
Sennelier La Carte Pastel Card
This heavy archival card stock is hand coated with vegetable flakes and available in 14 colors. The primer is waterbased and dissolves easily -- don't sneeze on this or you may get bald patches. Not recommended for wet effects, this is still a beautiful surface and many artists enjoy it.
Sennelier Oil Pastel Card
Heavy 160lb archival card treated to prevent oil from seeping through or haloing on it. I've heard different reactions to this card as a surface, so I'll be trying this card. Pads come with 12 sheets that have glassine interleaved between them to protect individual paintings. Blick carries the pads in several sizes. I haven't seen it anywhere in loose sheets.
Canson mi-Tientes
My old staple from my street art days. 98 pound heavy acid-free art paper that I did thousands of soft pastels and oil pastels sketches on. It comes in 60 colors, one side is smooth and the other has a woven texture annoying to many artists and exciting to others -- good in large pieces if you want easy texturing. Very suited to loose rendering where you use the background color as a significant part of the final work.
Available in large sheets, assortment packs, 9" x 12" sheets and three assortments in letter size 8 1/2" x 11" pads for scrapbookers. The pads are a bargain at $5 and change for getting many colors to play with. I use this paper for colored pencils, soft pastels, oil pastels and many other mediums, so it's very good for mixed media work. Not great for wet effects, it'll cockle.




Watercolor Paper
I'm not going to break down all the different brands available. Each has its own merits and surface, try them and see which ones you like best. Watercolor paper is great for priming with Colourfix primer or working directly on it with watersoluble oil pastels and wet effects.
It comes in various compositions from acid-free pulp, recycled pulp with varying degrees of post-consumer material, lignin-free cellulose, partial rag percentage (the more rag the better) or all-rag including those marked 100% cotton. Student grade watercolor paper is still a good surface, but the high rag percentage and buffered varieties will last better and the 100% rag high end ones are best for serious fine art. Beyond that choice, each of those types come in three or four different surfaces.
Rough watercolor paper is very rough and best used for large paintings, as it will break any mark into a broken rough line for a looser effect unless you soak it to fill the valleys. Cold Press has enough tooth for broken line effects and yet will hold a clean line or ink line reasonably well, it's medium surface and what you find most often. Soft Press is rarer, a couple of brands list it as an intermediate surface smoother than Cold Press. Hot Press is smooth and allows fine inked details but unlike glossy poster boards it's beautifully absorbent.
If you are going to use wet effects with turpentine, Zest-It or other oil painting mediums, it's best to prime any watercolor paper with an acrylic gesso or Colourfix clear primer or something on that order. Otherwise the oils in the sticks may wind up rotting the paper over the long term. Some artists recommend priming even for the short term unless you're using the watersolubles.
Watercolor paper is treated with sizing. Most watercolor artists soak and stretch it to get rid of that. I tend not to because I like the texture, it's up to you. Try it and see if you like the difference.
Watch for Clearance sales at art stores and online art supply companies for bargains on top quality 100% rag surfaces. This is where I get most of my best ones, just whatever good brand happened to be on sale when I was shopping. There are brand differences that have variations in the surface but there are so many brands that reviewing them all would be too encyclopedic. Check out watercolor websites for detailed reviews per brand.
Canvas
Stretched canvas is not one of the best alternatives for oil pastels because the pressure of using sticks directly on the surface may deform it and leave it sagging. If you do use stretched canvas, it may help to slide a piece of matboard or cardboard behind it inside the stretchers to provide a firm surface to draw on.
Of course an alternative known to many oil painters is to paint on primed roll canvas first, then stretch the painting over the stretchers to create an oil pastel painting on stretched canvas. Be creative if you're going to try this and test what you're doing before investing a fortune -- it is the most expensive way to get canvas anyway.
Primed canvas boards are a great surface for oil pastels. They're solid and sturdy, letting you grind the sticks in hard without deforming the surface. Archival canvas boards are available, some mounted on museum board and others on hardboard or masonite. This is the most effective way to use oil pastels on canvas because a solid support is built right in. You can bear down with heavy pressure to fill the weave and do impasto areas without deforming your painting.
Another stretched canvas alternative is canvas pads. The good ones are actual gessoed canvas bound into a pad with a sturdy cardboard back you can use for a drawing board. These can be stapled to stretchers and turned into regular stretched canvas after the art is done. I haven't ever tried it, but the pads are another inexpensive alternative to stretched canvas that works well for oil pastels.
Canva-paper is strong canvas-textured paper that's been primed to accept oil mediums. Guess what? This includes your oil pastels with all the sloppy wet effects you want. If it's made for painting on it in oils, oil pastels will do great on it. Grades and archival quality vary but most are probably good enough at least for street art.
Fine-texture portrait canvas is available on boards too, or could be primed and kept loose for painting with oil pastels. This would have a smoother texture for working small and getting fine details with scraping and pushing around color with tools.
Very small canvas boards for ATCs and ACEOs (Artist Trading Cards are 2 1/2" x 3 1/2" and only ever traded, Art Cards Editions and Originals are the same but can be sold) are available from some eBay suppliers along with 4" x 6" and other small sizes for miniaturists.
Glassine
This isn't something to draw on. It's an inexpensive, translucent, very thin waxy barrier sheet to lay over finished art as dust and smear protection. It's wonderful to slip between pages in a pad or sketchbook so that your painting doesn't create an accidental monoprint on the back of the previous page. Available in sheets or rolls in several brands. This is the stuff that postage stamps used to come folded in.
Some pastel pads have sheets of it bound in between the pages so that you can store finished art without smudging the back of the previous piece. It's good stuff and loony cheap for giant sheets. You can also use tracing paper or tracing vellum for the same purpose and you can use Glassine for tracing.
Boards
Mat board, foam board, backing board and other art cardboards are wonderful surfaces for oil pastel. Some are more archival than others. Look for boards that say Archival or Museum, even if the color range isn't as great as the cheap ones. The colors are more fadeproof and the board itself stands up to time better.
Scrap matboard is a fantastic surface for drawing because it's solid, it comes in a lot of colors and has about the tooth of Canson Mi-Tientes. The down side is that framers suggest replacing mats done with regular mat board every five years because the acidic pulp will eventually degrade and yellow and weaken the surface. It's better to pay a bit more and get museum grade board in the first place, then your art will last.
Boards can also easily be sealed and primed with Colourfix primer, either to give it a color or protect the colored surface with clear and add more tooth before you paint. Good stuff that most artists have around in abundance. Some art stores sell precut pieces in standard framing sizes.
Primers
I already mentioned my favorite primer, Colourfix. However, there are many other brands of acrylic gesso and primer that other artists prefer. I just haven't invested in those other brands or tested them yet.
A similar effect to the Colourfix primer can be had by mixing pumice or marble dust with any acrylic primer or gesso. Golden and other brands also make powdered texture mediums you can mix with acrylic mediums and gessos to make a textured surface. Experiment with these. There is a great variety of them and the types of grit sometimes have colors, sometimes are clear, sometimes have heavy or fine grain or even special effects like glass beads included to look like bubbles if suspended in a transparent acrylic gel.
Gesso is not the same thing as paint.
The original gesso is a medieval concoction of rabbit skin glue and gypsum, it's stuff to prepare an absorbent surface on wood or canvas so that oil paint will adhere to it. Acrylic gesso can be tinted with acrylic paint, but keep the proportion down to what the manufacturer suggests. Tinted gessos are available in quite dark colors and black if you're having trouble with that.
Acrylic primers and clear gesso can also be used to help preserve a surface that isn't archival in itself. A pastelist friend does trompe l'oeil paintings on literal newspaper in a remarkable mixed-media technique. What she does is cover the newspaper with a slightly textured clear gesso first so that it soaks in to protect the fragile, acidic newsprint.
Newsprint is the least archival surface you can get to paint on, but a combination of chemical buffers and acrylic clear primers can help to protect it for posterity. For more information on preserving surfaces that aren't archival, I would consult scrapbooking and collage websites as collage artists use many nonarchival found materials in their works. Don't take my word for it, go to the experts.
Krylon also makes a buffering spray, "Make It Acid Free" that may help to preserve surfaces that need protection. I'd use it first and then lay a clear protective layer of primer or gesso over it, then let it dry and treat the back the same way so that the acrylic polymer helps hold the fibers together over time. That's just my best guess though, reading conservation sites will give a lot better details on preserving fugitive materials.
I also find quite a lot of information at Dick Blick. I treat that site almost like Wikipedia sometimes for product references, then I compare them with my own experience and friends and seek information at manufacturers' sites. It helps to compare it to other sources but it always gives me a place to start when trying to judge the quality of surfaces and what their best uses are. Click the link below and surf some of these products by name, there is a lot of info available. Dick Blick art supplies