Oil Sticks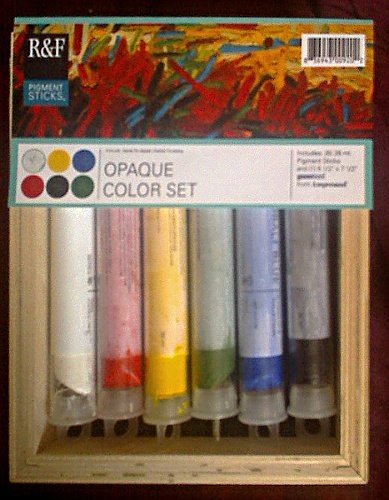 What are Oil Sticks?
Oil Sticks are a product that Oil Pastels are often mistaken for - oil paint in stick form. They're prepared with oils such as linseed oil and natural waxes similar to wax mediums used by oil painters to put oil paint into a convenient, portable form that can be drawn with.
Like oil paints, they take a long time to dry, from several days to weeks depending on how thick your paint layer is. Because they mix wet in wet like oil paints, you may not need as many colors especially if you're good at color mixing. They can be applied by drawing directly with the stick or mixed on a palette with a palette knife, then applied with brush, knife or painting tool.
Experts disagree on whether Oil Stick paintings can be varnished and framed without glass like other oil paintings or should be framed like oil pastel paintings, glazed without varnish. Oil sticks do form a dry, flexible paint layer unlike oil pastels that never dry, but there's some question as to whether the wax prevents them from completely curing. I'll be testing this over time since at least one manufacturer claims they can be varnished and framed without glass like other oil paintings. That test may take up to a year or more though since the painting will need to dry and "cure" for at least six months before any varnish is applied.
Oil painting mediums and thinners can be used with Oil Sticks to thin them back to paint consistency, including the fast-dry mediums like Winsor & Newton's Liquin and odorless turpentine substitutes like Winsor & Newton Sansodor.
Several brands of Oil Sticks are available to me online. I'm planning to purchase a set of the less expensive Shiva Paintstik ones, have already acquired a collection of used sticks in Winsor & Newton Oil Bars and Sennelier Oil Sticks and recently purchased a six color starter set of the most expensive, R&F Pigment Sticks. Reviews of these brands and any others I can get samples of will be linked to this page.
Also, any art instruction pages on handling Oil Sticks will link to this page because they handle so very differently than Oil Pastels. This page is for everything to do with Oil Sticks, a fascinating orphan medium in their own right and a great aid to oil painters who want compact, easy to handle sticks they can draw right on the canvas with.
All oil sticks form a protective skin when exposed to air. In their original wrappings the surface will be quite soft, like lipstick, but as soon as they're exposed to air they begin to dry. You should always remove the skin before painting. Just don't get scared and think that your oil sticks have spoiled when you find the tips have dried.
That protective paint film keeps the rest of the stick moist and ready for use. It can be easily removed with a rag or your fingers as long as you clean your hands afterward. Very little paint is lost for the convenience of having your oil paints in stick form and not having to remember to cap the tubes properly.
Oil Sticks are available online at Dick Blick and Jerry's Artarama as well as offline in various art supply stores.


Oil Sticks by Brand
Like most art supplies, each brand of Oil Sticks has its own proprietary formula zealously guarded by the manufacturer. Colors available, pigment combinations, pigment load, softness, opacity and handling qualities will all be different from brand to brand.
Trying samples of all the brands available before investing in a set is a good idea. Because these oil sticks handle so much like oil paint, you may not need as many colors as you would in oil pastels. They mix better. Individual sticks cost more than artist grade oil pastels and are much larger in all brands, so you are getting your money's worth in quantity of artist grade pigments. They are more comparable in price and quantity to tubes of oil paint than to other "stick" mediums.

R&F Pigment Sticks

R&F Pigment Sticks are the most expensive oil sticks available at my online sources. Their quality is worth the price in my opinion. Less expensive in sets than open stock, they also come in giant sticks in open stock.

Winsor & Newton Oil Bars

Winsor & Newton Oil Bars are mid-priced artist grade oil sticks. Colors and pigment combinations match other Winsor & Newton products including toxic Cadmiums and other mineral pigments. Quality is consistent and of course any W&N oil painting mediums would go well with these sticks. Review pending my sample painting. Available in Slim and Regular sizes.

Sennelier Oil Sticks

Sennelier Oil Sticks are another mid-price artist grade oil stick brand, comparable to other Sennelier products. Pigments include traditional Cadmiums and other toxic mineral pigments. Available in Regular and Giant sizes, prices comparable to oil paints. Review pending my creating a sample painting.

Shiva Artist's Paintstik

Shiva Paintstik is the price leader of artist grade oil sticks. Available in Mini and Regular sizes, Shiva Paintstiks are available in both traditional artist pigments including Cadmiums and other toxic mineral pigments, plus a variety of combination colors created especially for crafts, tole painting and stenciling such as Wedgewood Blue, Purple Sage or Grape. Review pending my purchase of a starter set.

Shiva Student Grade Paintstik

Shiva Student Grade Paintstiks are non toxic and hypo-allergenic. They're available in sets of 6 or 12 without open stock in colors with basic hue labels - red, green, yellow and so on. Safety and allergy factors may make these a good choice, especially if you want to give children a chance to experience the medium either for painting or for crafts painting. Review pending my purchase of a set.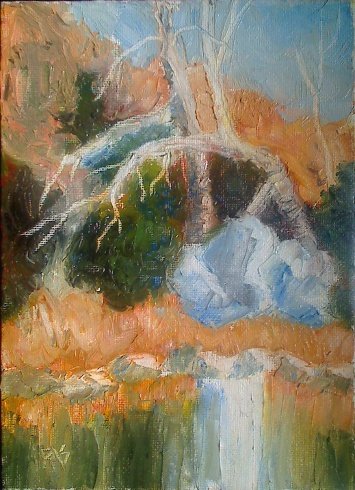 Painting with Oil Sticks
Painting with oil sticks is closer to painting with oil paint than with any oil pastels except perhaps Sennelier Oil Pastels. Those approach oil sticks in their lipstick softness and are easily manipulated with Colour Shapers or palette knives and brushes.
Because they mix so easily, a smaller well chosen mixing palette may be as effective as a large palette in oil sticks. I'll be posting some articles on how to paint with oil sticks as I experiment with mine, focusing projects on specific techniques. Watch this space for new art instruction articles!