Product Review -- Pentel oil pastels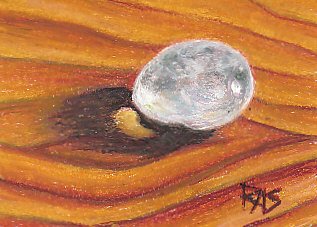 Clear Quartz, 3" x 4" in Pentel oil pastels on ProArt wirebound sketchbook page by Robert A. Sloan.
Quality at Loony Low Price!
Pentel oil pastels are one of the price leaders at Dick Blick, only $5.69 when I bought my 50 stick set on January 31, 2009. For that cheap an outlay, I wouldn't have been surprised if they were as crumbly and transparent as off-brand children's wax crayons. Instead, they have a smooth medium-firm texture, excellent opacity and a wonderful handling quality.
I suspected these might be the best of breed for cheap-cheap oil pastels from some realism studies I've seen by a skilled Japanese artist, some striking paintings in a Thai art video and other sources. Pentel is a well known manufacturer of pens, markers and other designer oriented art supplies. Some of their products run expensive but high quality and are geared to commercial art and advertising uses.
How they kept the price down on these excellent little oil pastel sticks seems to be the size of the sticks. They are 5/16" wide round wrapped sticks 2 3/8" long -- a little short, a little narrow, with good opacity and a medium rather than dry waxy texture. Pentels are smooth with no unexpected hard bits or irregularities in pigment. Their firm texture is as soft as CrayPas Specialist, perhaps even a little softer.
The packaging is convenient and durable. A heavy cardboard sleeve encloses a sturdy sliding tray with a well designed white styrene insert. Over that is a heavy clear plastic protector tray with two long grooves. I think this tray could work well as a palette if you're using odorless turpentine or linseed oil as a medium. It presses the sticks down and keeps them in place when the tray is slid back into the cardboard sleeve.
They blend very well. I had no trouble layering seven or eight colors in some of the muted neutral areas on my quartz pebble. Light went over dark well too, the light details I added for imperfections within the stone reflecting the light shaded exactly as I wanted them to. I was able to work small because the Pentels were firm enough to allow detail in small areas.
What I discovered in doing the quartz pebble painting is that this brand excels for clean hard edges. One of the biggest problems with oil pastels is trying to keep a hard edge clean. I was able to come right up to the edge of the stone with white and avoid haloing it where it went over the darker brown surrounding it.
I painted the pebble from the negative space, outlining just outside the area of the rock with the lightest red-brown and then sketching in lines to establish the wood grain. Then I started blending over that with yellow ochre and a warm earth orange, strengthened the lines with dark gray and went over those again with earth reds.
Despite the firmness of the sticks, I had no trouble using a Clay Shaper to blend away any white specks. Even in areas where I hadn't laid a heavy application, these pastels spread well and covered completely. This argues for a much higher pigment concentration than I'd expect out of a price leader among the cheapest student brands. The only unknown factor on these is their lightfastness. The packaging does claim they are long-lasting and fade-resistant. So even if they don't rate 6 or higher on the Blue Wool scale, they may still rate higher than other student grade oil pastels.




The 50 color range is new, until now Pentel was only available in 36 color sets. I have never seen open stock anywhere and it probably wouldn't be cost effective to bother with open stock when the sets run so cheap. If these do well in the lightfastness testing, if even a good number of their colors are artist grade then we may be looking at the Low Price Champion oil pastel here.
They are not crumbly.
They crumble as little as Caran d'Ache Neopastels though they are quite more firm. They blend that well too. One of the brands that come closer to the feel of Neopastels and opacity of Neopastels than anything else. Erengi comes very close too, but Pentels are down in the price range of "skip one burger."
Even if they don't do well in the lightfastness testing, this brand has its own uses. Practice is a good one, Pentel's texture will give control and positive response for beginners. Quick studies and sketchbook use may cost a lot less if you keep this brand stocked up. At that price I can safely recommend to anyone -- buy the big set, keep it around to play with and sketch as often as you can.
Below is a color chart for all 49 hues in Pentel's range. The 50 stick set has two white sticks, a convenience when these are not available in open stock. If they rate high on lightfastness, the only thing that keeps them from being artist grade is that they're not available in open stock and don't list the pigment composition for each hue. Either way, Pentel oil pastels are a great bargain and if you don't have much money they might be your best choice.