Product Review -- Niji Oil Pastels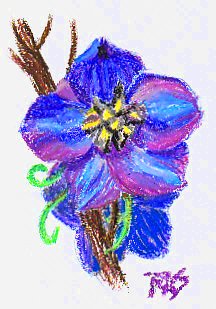 Niji oil pastels are a student grade brand available in sets of 12, 24 and 36 from Dick Blick at a low, low price. Recently introduced, naturally I ordered the full range 36 color set to review it and put the brand through my independent lightfastness tests starting in April 2009.
Niji oil pastels are medium soft, brilliant, have a good range of landscape colors with eight greens and five blues out of 36 total and handle well. Opacity is middling. They mixed well in the little sketches I did at the bottom of my color chart page.
I was able to get some good realism in the pink quartz sketch, below.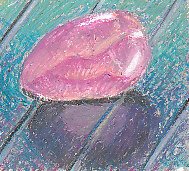 One mixing test turned into a sketch of a pear from imagination and I also started doing pointillism on the side to see how they work for optical mixing. That was a complete success. I'd recommend this brand for stippled and pointillist effects or anything with short dotting strokes. They covered well and dots that fell partly over others blended a bit but didn't completely lose their integrity.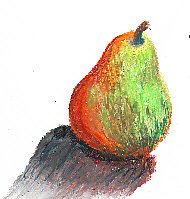 Different brands suggest different techniques, and the Niji almost cry out for broken line or dotting techniques. It wasn't that it was hard to blend them or that they're more translucent and waxy than Pentels, it was that they worked well for pointillism. I'd say these are good general purpose student oil pastels.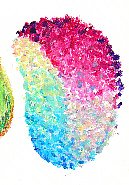 In each swatch on the color chart I did a lower right corner of light application to show how they behave. Unlike some brands of oil pastels, letting this chart "set" for several days did not harden them at all -- so that means hardening to add more layers wouldn't help. On the up side, it also means a half finished painting may be easier to continue after a break of days or weeks.
Color chart is below.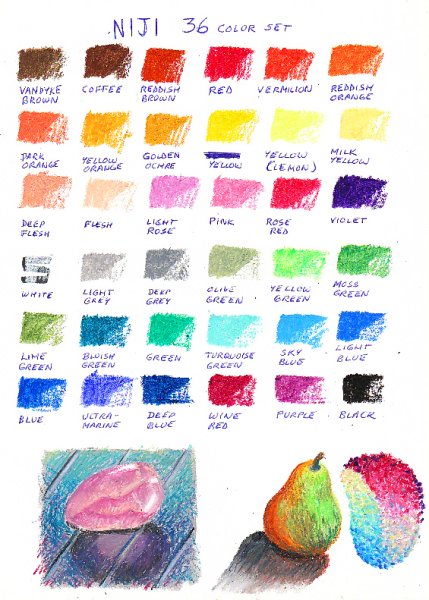 While they don't compare with artist grade oil pastels for creaminess, softness or lack of crumbling, Niji is still a good brand for student and sketchbook use. I did notice that the soft, smudging crumbs produced were very fine and small, they blew away easily when I was doing the chart and my artworks. Crumb control with these can be helped by keeping a can of compressed air handy to blow across your artwork.