Product Review -- Crayola Oil Pastels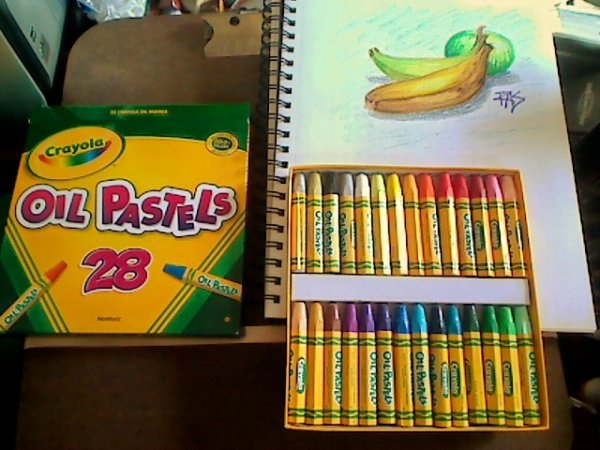 Crayola oil pastels, available at Dick Blick for $3.42 at time of writing (Feb. 2009) in a 28 color maximum range are a good value for children's oil pastels. In a pinch they'll do for adult art students, hobbyists, sketches, studies and illustrations. At that price they're certainly affordable.
Texture was smooth, medium firm but not as hard as Prang by a long shot. Colors are reasonably opaque. Below is a quick freehand study of two bananas and a green apple done from imagination. I used the white stick to lighten highlights on the apple with some visible effect although it wasn't fully opaque the way a Sennelier highlight would.
Overripe and Underripe, fruit study by Robert A. Sloan using Crayola oil pastels on ProArt sketchbook paper.


Crayola products are familiar to almost any American artist, especially wax crayons. Schools specify the Crayola brand on supply lists to reduce arguments about sharing when children bring in lower quality supplies. The company produces a wide range of children's products. Not noted for lightfastness, they do tend to have a consistent good quality otherwise at a good price.
This certainly held true for the oil pastels, which have a medium texture as cheap oil pastels go, only average crumbliness and a good color range in the 28 color set. Silver and gold metallics are included. Sticks are thick and hexagonal with a crayon-point cone tip and could probably be sharpened in an extra large crayon sharpener.
The colors blend well and are suited to bold techniques like the sketch I did above. I could get some good detail with them if I were so minded. The very large sticks are an additional bargain aspect as they'll run out slower.
They're pretty good. They're probably only as lightfast as food coloring unless you get a dark staining color on a white garment but they're not bad for the money. Pigment concentration isn't high but isn't as bad as Prang, these are a much better bargain if you're introducing the medium to children. Even very small children could handle the oversize sticks and their hexagonal shape keeps them from rolling off the table.
Packaging is a thin cardboard box with a heavy cardboard sliding tray and tuck flaps that like the ones on the crayon boxes will probably fall off around the third time the set is used. Big hexagonal pointed sticks with wrappers are good for sore hands or very small hands.
They may be a very good choice for signs and posters where lightfastness isn't an issue but covering large areas with bold color could otherwise cost a lot. I would easily set these out for an Art Jam at a party or convention with a roll of butcher paper to let friends have their go at cartooning and graffiti -- a fun party activity that happened several times in the clubs I belonged to in Chicago in the 1980s.
They could also be useful for studies and illustrations where lightfastness isn't an issue.
One thing about Crayola products for studies and creativity exercises is that it's like McDonalds for bringing up childhood memories. It may be a good thing for an adult artist to have a set of these around as a block-breaker in moments of artistic insecurity or shortage of ideas. Nothing invites childlike creativity so much as having copious cheap supplies that you know are a child's supply and don't have to worry about wasting.
Experiment with these. The texture is close enough to Cray Pas Specialist that you won't be far off in techniques you can use with more expensive brands, and it's almost impossible to take them too seriously and choke up on whether you'll get it right. You can't get it wrong with something this bright and kidlike. Have fun with Crayolas.
28 colors is not bad for a beginner range -- not so many as to be overwhelming, not so few as to leave out important hues. Brown and yellow ochre are essential earth tones while the Peach is a good highlight on wood tones as well as skin tones. They blend well enough to allow good mixing experiments and Crayola does include both warm and cold primaries and secondaries in this lineup -- Crayola products are always good for demonstrating color theory.
Below is a color chart. These come in 16 color and 28 color packs or in a classpack with 24 each of 10 colors and 48 each of black and white.